Visit Santa at Johnstown Castle in Wexford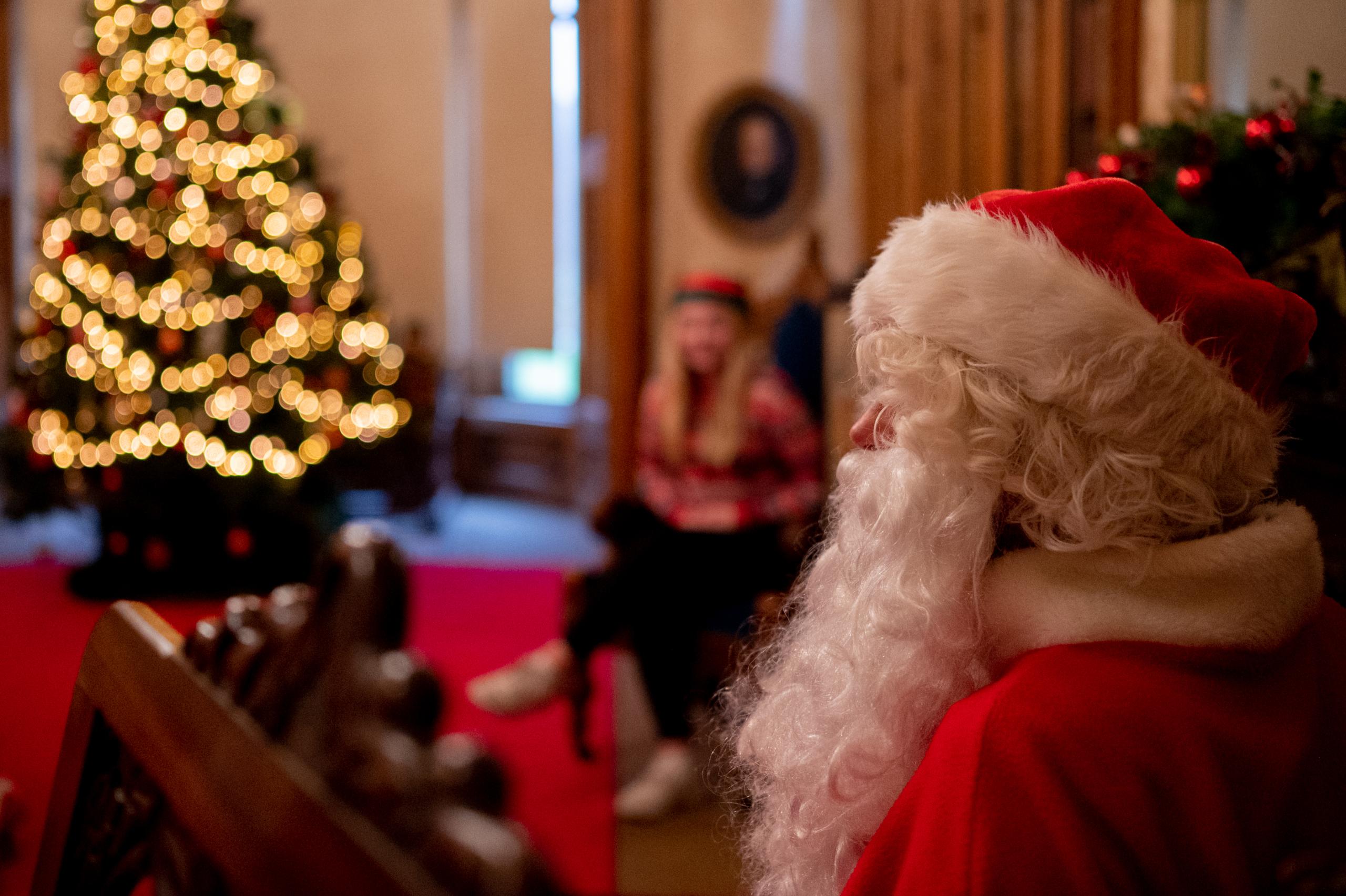 This festive season, we invite you to be part of an extra special Christmas in Wexford at our Enchanted Christmas at Johnstown Castle.  Enjoy the very best seasonal activities and Santa experience with our team of merry elves at our fairytale castle.
Your family group will enjoy a very special visit with Santa Claus who's coming to stay right here at Johnstown Castle while the team at the North Pole get everything ready for the festive season.  After sharing all your Christmas wishes with Santa, join the elves in the magical workshop and choose your very own Christmas gift.
Read a review from Kelly who visited in 2022: "The experience was just magical. It truly was an enchanted Christmas experience. My 3 year old Daughter was in awe of the joyful Christmas experience at Johnstown Castle. In was my first time in the Castle and it felt like stepping back in time at Christmas. The level of detail was amazing, to the Christmas tree and the set up of the Christmas table. I felt like a child gazing at everything. My Daughter enjoyed meeting Santa. Her eyes lit up when she saw the toys in the Elves work shop. She was delighted with her present. Great idea to let the children pick their gift."
Enchanted Christmas Details
Each timeslot will have a maximum of 3 family groups.
Your Enchanted Christmas experience will feature story and interactive elements shared with your tour group.
Each family will then visit Santa individually – don't forget your camera to capture those special festive memories!
Next comes your chance to visit the magical Elves' Workshop to choose your gift.
After your Santa Claus and elves visit, it's time for a festive hot beverage at the Peacock Café.
And keep snapping – there are so many magical photo opportunities at Johnstown Castle!
Pre-Booking is required.
Full details for getting to Johnstown Castle available here.
Visiting Wexford from farther afield?  Find out more about places to stay here.
Christmas Dates
Weekends in December (Friday, Saturday, Sunday) 1st – 3rd ;  8th – 10th ;  15th – 17th 
Christmas Week Monday 18th – Saturday 23rd December
Santa Experience Times
Check in time 20 minutes prior to experience time.
Weekends – Santa experience begins at 10am with last bookings at 7pm (also applies to Friday 22nd & Saturday 23rd Dec).
Weekdays – Santa experiences begins at 4pm with last bookings at 7pm.
Each experience inside the Castle will last approximately 45 minutes.
Please allow extra time to enjoy your hot beverage in our café before or after your visit with Santa.
We look forward to welcoming you and your family to our Enchanted Christmas at Johnstown Castle in Wexford.  Tickets for Santa at Johnstown Castle will be in extremely high demand – book early to avoid disappointment!