Experience the timeless beauty of Johnstown Castle and discover the fascinating ways its unusual history has been shaped by the changing fortunes of Ireland's Ancient East.
The Castle
Johnstown Castle stands on an estate first granted to the Esmonde family as thanks for their role in the Norman invasion of Ireland in 1169, and its fortunes over the centuries reflect the richly layered story of this storied region in the centuries that followed.
In the 19th-century, the Grogan family re-imagined and remodelled the castle with a romantic, neo-Gothic design – delivered with the help of Daniel Robertson, who also shaped the gardens at the Powerscourt Estate.
Together they created the neo-Gothic castle you see today, adorned with turrets and towers, and Johnstown's sumptuous gardens and parkland, studded with three lakes and bordered by woodland walks.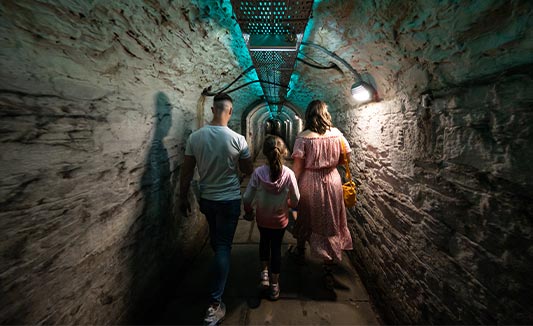 Walk the Servants' Subterranean Passageway
After getting a taste of the gentry's lifestyle, head downstairs to Johnstown Castle's kitchens to learn about servants' lives and work!
Then step inside the remarkable 86-metre servants tunnel that kept busy staff out of sight in one of Ireland's most distinctive Big Houses.
The History of Johnstown Castle
The Castle has had a chequered history since the original Anglo-Norman family, the Esmonds, came to Johnstown. The Esmonds were evicted by Cromwell in 1649. The Castle changed hands many times between then and the mid 1800's when Hamilton Knox Grogan Morgan inherited the Castle on 21st birthday. The last permanent resident of Johnstown, Lady Maurice Fitzgerald died in 1942 and the castle was gifted to the state in 1945.
Throughout all these changes, over almost a thousand years, the owners of Johnstown Castle devoted their energies to managing the estate productively and sustainably for the benefit of all.
The owners of Johnstown Castle have traditionally championed the civil, religious, and political rights of their tenants, in some cases with tragic results. We are proud to share and celebrate their inspirational stories with visitors from across Ireland and beyond, and we strive to continue Johnstown Castle's inspiring traditions through our work towards social and environmental sustainability.
Johnstown Castle's Restoration and Care
Johnstown Castle Estate, Museum & Gardens is managed and cared for by the Irish Heritage Trust – a non-profit organisation that conserves the house and makes it available for the enjoyment of all.
The Irish Heritage Trust works in close partnership with the Office of Public Works, Fáilte Ireland, and other organisations, as well as corporate partners. The funds we generate from your visit, the coffee you buy at the Peacock Café, and the event tickets you sign up for, all support the important work of caring for and maintaining Johnstown Castle Estate, Museum & Gardens.