Enjoy the tranquillity and beauty of our Johnstown Castle gardens and discover the vibrancy of a fairytale estate that's teeming with gorgeous planting and native wildlife!
The Johnstown Castle gardens and lakes you see today were developed by the Grogan family, who brought their romantic vision to life with the help of the extraordinary 19th-century garden designer Daniel Robertson, who also designed the impressive gardens at the Powerscourt Estate and Wells House.
The 4-acre walled gardens and hothouses, which were originally laid out between 1844 -1851, are being painstakingly restored by Head Gardener Ciarán Fitzgerald and our enthusiastic team of over 100 local volunteers, so they can be enjoyed by locals and visitors throughout the seasons for centuries to come.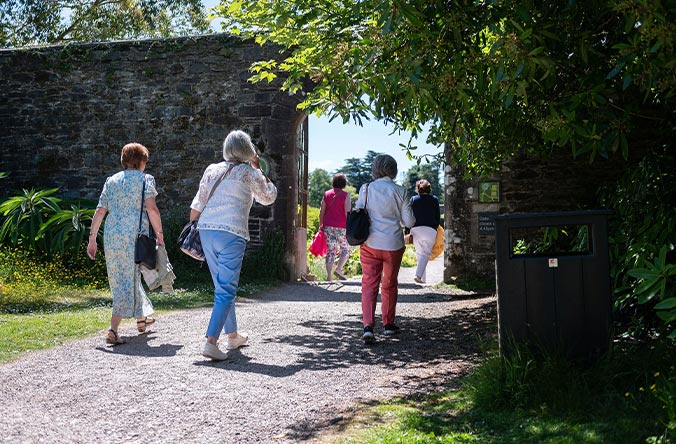 Explore Johnstown Castle's Romantic Gardens
Meander through the grounds to explore the woodland garden and the recently extended lakeside trails.
Immerse yourself in the lush prairie planting of the walled garden.
Become one with nature, as you relax in our acres of native hay meadows.
Stroll lakeside paths that give you extraordinary views across the castle's gothic towers, our picturesque waterfall, follies, and statues.
Relax on the Johnstown Castle Estate
Watch the super-friendly peacocks display their finery at the castle and invite them to eat from your hand (bags of their favourite food are available at the Visitor Centre Reception for €2).
Enjoy our fully accessible 1.2km lower lake walk and our fun nature playground.
Bring a picnic to the sunken garden, where you can relax and enjoy the changing beauty of the garden throughout the seasons.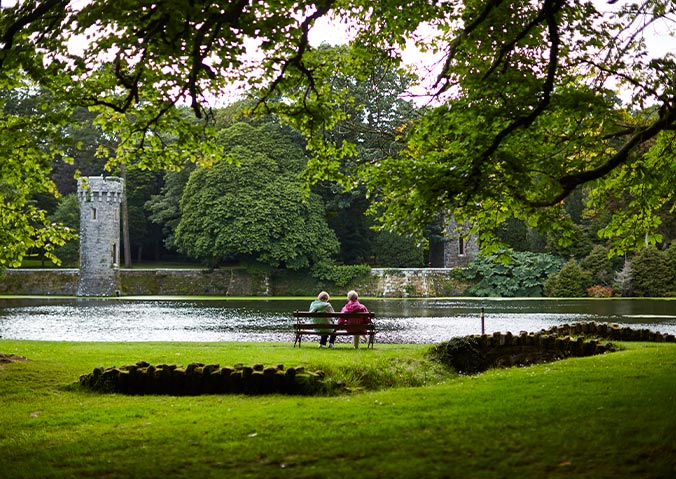 Johnstown Castle's Lakes
At almost 12 acres, the lower lake is the largest inland freshwater lake in Wexford. Dug out by hand in the early 1850s, it has become a haven for wildlife including waterfowl and otters.
The Castle Lake or middle lake was constructed in the late 1830s-40s as part of Hamilton Knox Grogan Morgan's grand vision for the Johnstown Castle Estate. Around its fringes you'll find two follies, including a fishing tower and seven statues which were completed at the same time as the lake. A third lake was constructed near the walled garden in the 1880s, for the Fitzgerald family.
Royal Horticultural Society of Ireland (RHSI) membership cards are welcome at Johnstown Castle Estate, Museum & Gardens.
Join Us
Book Your Visit Now
Find peace and solitude in Johnstown Castle's ornamental gardens and parklands, which were designed by Daniel Robertson of Powerscourt fame.
See Robertson's romantic vision unfold across ornamental gardens, tranquil lakeside paths, and lush parklands that feature original statuary, follies, and gorgeous planting.
Support Johnstown Castle Estate, Museum & Gardens and the Irish Heritage Trust
Johnstown Castle Estate, Museum & Gardens is managed and cared for by the Irish Heritage Trust – a non-profit organisation that works conserve and preserve the property and its stories for the enjoyment of all.
We strive to achieve financial sustainability for some of Ireland's most prestigious properties, so these houses and their grounds can remain vital, accessible places for leisure, learning, and fun in perpetuity. That work is made possible thanks to your support.