(SOLD OUT) Cyanotype Art Workshop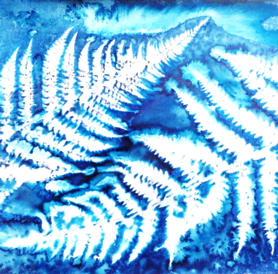 Local artist Judith Tutin is returning this summer to run the popular cyanotype workshops in Johnstown Castle.
**Book your place by emailing doylejudith@yahoo.co.uk**
Johnstown Castle gardens are the perfect location to explore this traditional early photographic method. The workshop is aimed at photographers and plant lovers, anyone who enjoys exploring the beauty of simple shapes. It is suitable for all artistic abilities and children from 9 upwards are also welcome. Beginners will enjoy the simple beauty of this process while more advanced artists will challenge themselves with composition and variations on the technique.
The process involves specially treated paper and exposure to the sun, followed by washing in cold water.
The full workshop lasts 3 hours and is €60 per person (all materials provided). 11am – 2pm (fully booked).
Judith will give you all the information about cyanotypes and how to make the raw materials from scratch. You will leave with an array of different images, exploring the cyanotype technique in multiple ways.
This year there is a drop-in taster workshop where you will takeaway 2 finished images – cost €10. No need to book, first-come basis starting at midday. For €10 you will get 2 pieces of treated paper and an explanation of how to use it. You can then continue enjoying your walk around the gardens and come back to collect your finished work, or stay and watch the whole magical process. This taster workshop is ideal for families, or those who want a unique memento of the plant life in Johnstown.
Judith is a Wexford local, from Murrintown. She has been working as an art teacher in the UK for over 20 years and is now a successful practising artist working in both cyanotype and spiritual oil paintings. This will be Judith's 4th year running this popular workshop.
**Places are limited so book early to avoid disappointment**
All our events can be found here: