Jazz at Johnstown – 3 Day Festival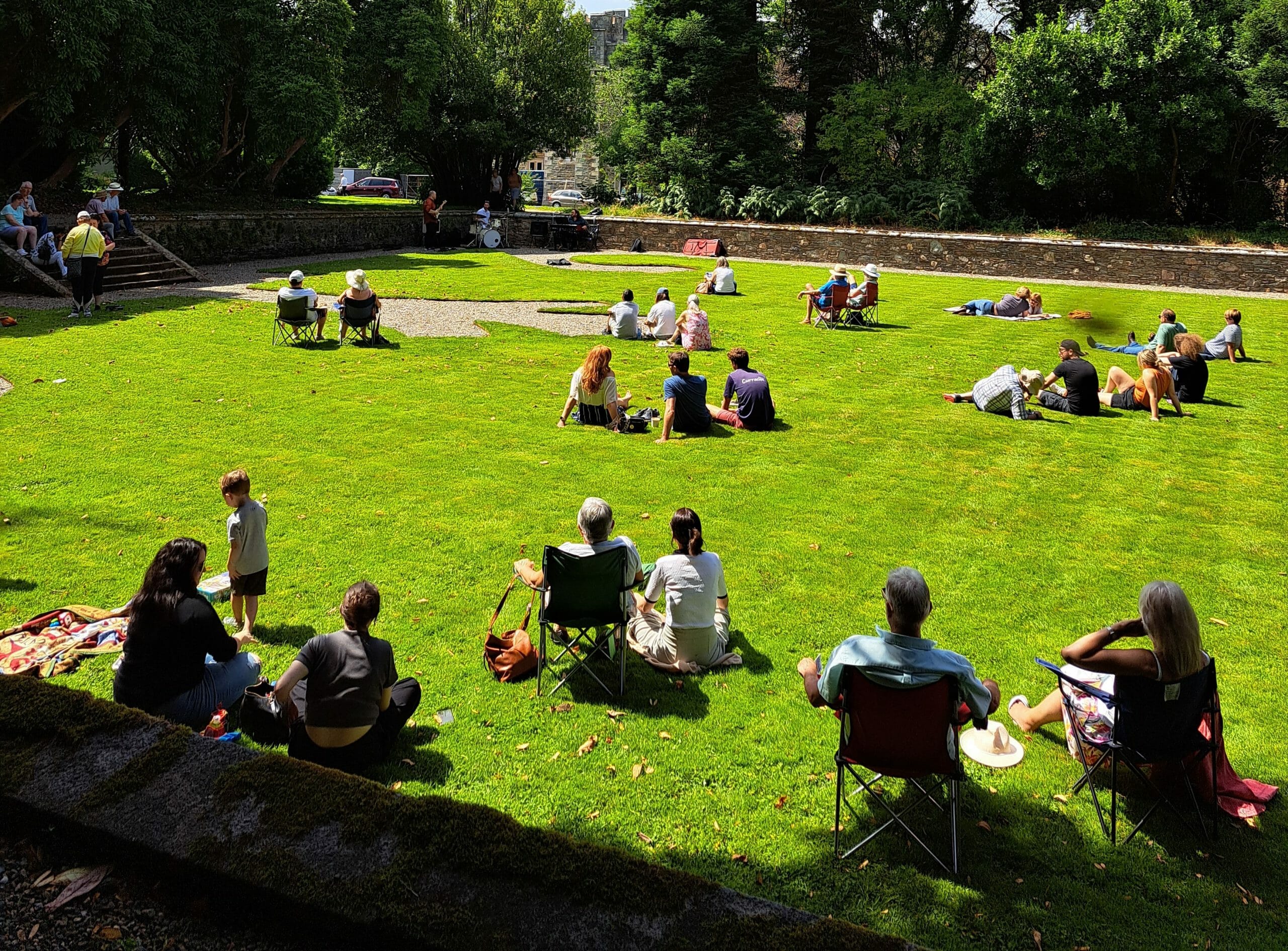 Jazz at Johnstown Festival
The biggest outdoor jazz festival in the South East takes place in Wexford across three days from June 23 to June 25.
Over 14 bands and 35 musicians from throughout the country will take part in the third outdoor Jazz at Johnstown festival.
Hosted on the grounds of Johnstown Castle, some of the biggest names in Irish jazz –Stella Bass, Carole Nelson Trio, Lee Meehan Quintet and Cormac Kenevey – will bring star-studded bands to the Wexford venue.
A series of outdoor stages – the Castle Stage, the Sunken Garden, the Visitors Centre's jazz on the grass, the Courtyard – will accommodate two full days of live jazz on Saturday and Sunday. Admission to the festival is free for members, €9 a day for adult, €7 for OAP/Students, €4 child, or €24 per day for a family of two adults and two children (Under 5's are Free). General Admission tickets can be pre-purchased here: https://rb.gy/07bn8
A separate admission charge is in place for the evening headline acts at the Visitors Centre on Friday night (Mark Redmond and Chris Colloton Trio) and Saturday (Stella Bass with Barry Donohue, Dominic Mullan and Johnny Taylor).
Jazz at Johnstown is a recipient of the Small Arts Festivals and Experimental Art Events Grants Scheme 2023 from the Arts Department, Wexford Co. Council. It is also supported by Johnstown Castle, Rosslare Municipal District, Wexford Co. Council, the Environmental Protection Agency, the Irish Heritage Trust and Price Waterhouse Cooper.
FULL SCHEDULE: *Subject to change*
Mark Redmond and Chris Colloton Trio
Jazz at Johnstown, in the first of two indoor concerts at the Visitors Centre, brings together jazz and Irish trad to celebrate the 50th anniversary of the seminal Horslips album, The Táin. Our special guest is Wexford piper Mark Redmond, playing alongside Jazz at Johnstown frequent headliners, the Chris Colloton Trio, featuring on keyboards the young wizard Killian Browne, and guesting on drums, the brilliant Lorcan Byrne.  Guitar supremo Chris and Mark will reimagine The Táin, which represented the zenith of the Horslips' Celtic Symphony years, as the opening concert of the 2023 Jazz at Johnstown festival. The coming together of these great musicians will demonstrate how both trad and jazz can easily incorporate aspects of each other into a stunning fusion of improvisational brilliance. Making his debut at Jazz at Johnstown, Mark Redmond has toured globally as a soloist and ensemble musician. This is a one-off occasion to see these four eminent musicians playing a classic from the Irish repertoire as an ensemble. (8 p.m @ the Visitors Centre)
SATURDAY, JUNE 24
The Ivy Sisters
The Ivy Sisters (Sharon Clancy, Jilly Cox and Aileen Donohoe), a vintage vocal harmony trio from Wexford, is one of the country's most accomplished exponents of vocal jazz and swing. A live performance by these singers, all of whom come from a performing and theatrical background including the West End, promises a cocktail of sassy entertainment which can switch from seductive harmonising to a full blown, delicious euphony of pitch-perfect harmony, in seconds. A perennial favourite at Jazz at Johnstown.
(11.30 a.m @ the Visitors Centre)
Carole Nelson Trio
Carole is a London-born jazz pianist, saxophonist and composer who has been living in Ireland since 1986. Her current project, the Carole Nelson Trio, with Carole on piano, bassist Cormac O'Brien and drummer Dominic Mullen, began at a piano festival in Dublin in 2015. Their first album, One Day in Winter was released November 2017. Comprising all original compositions from Carole, the album follows the course of a winter's day, inspired by the South County Carlow landscape between the River Barrow and the Blackstairs Mountains, where she currently lives and was described as 'a finely-wrought meditation that tapped into the spacious European piano trio tradition of Tord Gustavsen and Marcin Wasilewski' by Cormac Larkin in The Irish Times. Arboreal is the trio's second album, which was released in 2020 and featured another collection of outstanding compositions.
(12.30 p.m. @ the Sunken Garden)
Gediminas Karkauskas Trio
Gediminas Karkauskas from Lithuania is a jazz pianist, composer and educator who has been living in Dublin for the past two decades. In 2020 Gediminas released his debut album, Lost Suite, which was critically acclaimed not only in Europe but also in the USA, where it remained in the charts for fifteen weeks. It was cited by 'jazzfuel' as one of the top jazz albums of the year whilst American author Debbie Burke devoted a whole chapter of her book , "tasty jazz jams for our times vol.2" to an appreciation of Lost Suite. Gediminas will be joined by Wexford drummer Kevin Lawlor and Kilkenny bassist Adrian Jackson.
(1.15 p.m.  @ Johnstown Castle)
ÄTSCH
Dublin four-piece ÄTSCH started life in 2016 as the graduation project of German-born guitarist Matthias Winkler, but the chemistry between its members – the band also features keyboardist Graeme Bourke, bassist Eoin O'Halloran and drummer Hugh Denman – has kept them together over the last six years: the band's third album proves the musical rewards that can flow from such sustained engagement.
(2.15 p.m. @ the Visitors Centre)
Pogo Bear
Pogo Bear – Daniel Rorke, saxophone, Cormac O'Brien, double bass and Shane O'Dononvan, drums – is a trio of dynamic and innovative musicians. Formed in the vibrant and thriving music scene in Dublin, this trio have honed their sound over recent years, drawing inspiration from a wide range of musical genres. They have created a distinctive sound that is both accessible and complex, showcasing their technical proficiency and improvisational skills. Pogo's live shows are a tour de force of energy and creativity, with each member taking turns to shine as they weave intricate melodies and harmonies together. From high-energy bebop to soulful ballads, this trio seamlessly blends genres and styles to create a truly unique musical experience. Whether on stage or in the studio, this trio is a true embodiment of the power of collective musical expression.
(3.15 p.m. @ the Courtyard)
TBL8
TBL8 is a big-band inspired brass and stage ensemble based in Dublin and playing together since June 2017. Most of the band learned their instruments in the Finglas Concert and Marching Band as kids, where they became friends and started playing the music they wanted to play. Since then, they have put together a set-list of both original compositions as well as original arrangements based on modern pop songs.
(4.15 p.m. @ the Visitors Centre)
Stella Bass (with Barry Donohue, Dominic Mullan and Johnny Taylor)
If ever a trio of musicians in contemporary Irish jazz warranted the description as a super group, bassist Barry Donohue, drummer Dominic Mullan and keyboardist Johnny Taylor fit the bill. They are the sensational sound behind one of the best jazz vocalists in the country, Stella Bass, making her Jazz at Johnstown debut on Saturday, June 24, at 8 p.m.
Since she released her first album in 2014, Stella has performed at most of the major jazz festivals in Ireland, as well as at Pizza Express in London and jazz venues in Germany, France and Australia. She was a headline act at the 2017 Cork Jazz Festival in a concert she devised with acclaimed jazz guitarist Hugh Buckley, which paid tribute to the Ella Fitzgerald/Joe Pass collaborations.
This show also toured Ireland that year, and sold out twice in Dublin's National Concert Hall. Stella had similar sell-out success in the NCH with her jazz-inspired interpretations of the music of Broadway composer Stephen Sondheim; this concert also toured Ireland. Stella's versatile repertoire crosses over jazz, classical and musical theatre, though she is still most at home singing her beloved jazz standards, inspired by her major influences, Ella Fitzgerald and Barbra Streisand.
(8 p.m. @ the Visitors Centre)
SUNDAY JUNE 25
Jazz Alley
For such a short and innocuous word, 'Swing' packs quite a punch in jazz,  and few ensembles pack as powerfully and as infectiously as the Vicky Barron-led Jazz Alley. Last year's Jazz at Johnstown festival opener, Jazz Alley will return to the familiar haunt of jazz on the grass at the Visitors Centre, with a set which includes popular favourites and occasional rarities with an astonishing sound. Jazz never gets old, played by a band like Jazz Alley from Wexford. Vicky's unique tone and approach to melody have helped define lyrical saxophone playing in Wexford for many, many years.
(11.45 a.m. @ the Visitors Centre)
Melanie O'Reilly Quartet
Wexford-based Melanie O'Reilly and her star-laden swing jazz trio – Gediminas Karkauskas – piano, Adrian Jackson –bass and Kevin Lawlor – drums present a bouquet of sultry swinging jazz celebrating legendary singers Anita O'Day, Ella Fitzgerald, Rosemary Clooney, Nina Simone, Mel Torme, Jon Hendricks among many, revisiting the Great American Songbook while bringing new life to the memory of  jazz vocal legends and songwriters of Tin Pan Alley.
(1. p.m.  @ the Sunken Garden)
Presto
Presto from Wexford is a newly formed duo between Des O' Callaghan and Hayley Crosbie. Between them they have a whirlwind of experience! Guaranteed to provide a high energy and entertaining performance with a variety of different music, from classics to modern to jazz! They are not to be missed over a cup of coffee or Sunday lunch!
(1.15 p.m. @ the Visitors Centre restaurant)
Cormac Kenevey (with Dominic Mullan, Dave Redmond and Johnny Taylor)
In 2006, Cormac Kenevey funded and recorded his first album This Is Living – a collaboration with the exceptionally talented Dublin stalwart Phil Ware and his Trio. It was quickly picked up and released by Alan Bates at the CANDID record label in London (home to Stacey Kent and Jamie Cullum). Thus began a career as a jazz singer with a string of critically acclaimed national and international appearances. His second album The Art of Dreaming confirmed his place on the international jazz scene. His tour dates have included locations in London (Ronnie Scott's, Pizza Express Dean St) around Europe, and as far afield Abu Dhabi and Mexico. During this period he also took the time to complete a Master's Degree in Jazz performance, specialising in the art of Vocalese and in the vocal stylings of hero and eventual mentor, Mark Murphy. A big crowd favourite last year, he brings a magnificent trio to Jazz at Johnstown: Dominic Mullan, Dave Redmond and Johnny Taylor.
(2.15 p.m.  @ the Visitors Centre)
Sharon Clancy Trio
An opportunity to see this ensemble on home soil before it makes its international debut at the Aberjazz International Festival in the UK in August. With Vicky Barron on saxophone/clarinet and Terry Byrne on keyboards/piano, singer Sharon Clancy can sing straight-ahead jazz with aplomb but switch styles in the blink of an eye. A frequent headliner over the years at Jazz at Johnstown with the Chris Colloton Trio, Sharon has both a smouldering and sensuous vocal with a seasoned performer's mastery of the stage.
(3.15 p.m.  @ the Courtyard)
Lee Meehan Quintet (with Shane O'Donovan, Dave Redmond and Darragh O'Kelly)
The Lee Meehan Quintet is a high octane ensemble. Lee, guitar, will be joined on stage by the incredible talent of Shane O'Donovan on drums, Dave Redmond on bass, Darragh O'Kelly on keyboards and Michael Buckley on saxophone. Lee will be performing his own original songs as well as jazz standards from the great American songbook. Lee is best known on the Irish music circuit for being a blues guitarist and singer playing with the likes of Don Baker, The 9Bars (9bar blues band) Gotcha!, The Business, Rob Strong, Damien Dempsey, Mik Pyro (Republic Of Loose). After hearing Wes Montgomery for the first time Lee quickly became fascinated with jazz and studied the genre extensively for some time.
(4.15 p.m. @ the Visitors Centre)
Related Events